Kielce
Kielce Travel Guide - Kielce in south central Poland in the province of Świętokrzyskie with a population of about 204,900 inhabitants as of June 2009 reducing to 195,942 by 2016". It is also the capital city of the Świętokrzyskie Voivodeship (Holy Cross Voivodeship) since 1 January 1999. It was previously in the Kielce Voivodeship from 1919 to 1939 and 1945 to 1998.
The city is located in the middle of the Świętokrzyskie Mountains, also known as the Holy Cross Mountains, on the banks of Silnica river, in the northern part of the historical Polish province of Lesser Poland.
It was Once an important centre of limestone mining with sandstone and marble from nearby quarries, and is now a centre of trade and commerce with factories such as spark plug and bearing makers, a paper mill and chemical industries.
In the nearby mountains copper, lead and iron ores have been mined since the Middle Ages and the first technical college in Poland was set up by Stanislaw Staszic, a politician and scientist, called the Mining Academy.
The Cathedral of the Assumption, opposite the castle, was once a Romanesque church but was transformed into a Baroque place of worship in the 17th century.
Kielce Travel Guide
Poland Travel Guide
This site is a travel Guide about the country of Polska which is located in central Europe. You are very welcome to visit my site and I hope that you will enjoy the experience.
My guide is easy to use as each village, town and city has it's own page with useful information for the visitor. Not all sections appearing on the left of my guide, on this place may have information as this is an ongoing project.
It may be the case that this location has not yet been reviewed and written about so if you can contribute any information about this place to improve this guide please send it to Kielce Travel Guide.
Accommodation in Kielce
You will find the full range of accommodation in this town from the most luxurious five star hotels with up to date and modern amenities to pensions (a type of guest house or boarding house) and rooms or apartments at very reasonable prices. Some of the larger towns and cities will also have hostels.
If you prefer to stay in a more rural location there are a number of "Agro" style of accommodation places on farms and in the countryside plus there may be camp sites nearby.
If you see something you like or wish to know more about please contact the accommodation directly as I do not take commission and I take the attitude that their own website will have more up to date details on what they offer than if I were to include it here.
If you wish to advertise your accommodation on Kielce Travel Guide please contact me.
Accommodation
Hotel Astoria
I stayed at Hotel Astoria in September 2014, a 2 star and am very happy to recommend it as a simple but pleasant place to stay. It is run by a father and daughter, the daughter speaks good English, and both are very welcoming to their guests.
| | | | |
| --- | --- | --- | --- |
| Name of Accommodation | Address | Type | URL |
| Hotel Astoria | ul. Kościuszki 26, 25-310 Kielce | Hotel | None |
Activities & Attractions in Kielce
Bishops' Palace
Many of the buildings in Kielce were constructed after the second World War and are a bit dull but one that is worth visiting is the Bishops' Palace standing out like a Jewel.
Built in the period 1637 to 1641 for Jakub Zadzik, the then Bishop of Cracow, as a personal monument most likely by the royal architect Giovanni Battista Trevano (born in Lugano, Switzerland, died 1644 in Krakow, Poland, was an Italian-speaking architect who worked in Poland as a royal architect for King Sigismund III Vasa, of the Vasa dynasty, which ruled Poland at that time) is undocumented but is attributed to Trevano, though Tomasso Poncino, another Italian working in Poland but mainly as a building contractor, is credited with carrying out the construction and working out some of the architectural detail.
The palace stands out in Poland in retaining its original features virtually unchanged and is described  as a well preserved aristocratic town house of the first half of the 17th century with early Baroque façades having four corner towers. The rooms are also well preserved with the marble doorways and beamed ceilings all being original.
Jakub Zadzik born in 1582 at Drużbin, Poddębice County and died on 17 March 1642. He was a Polish Great Crown Secretary from 1613 to 1627, Bishop of Chełmno from 1624, Crown Deputy Chancellor from 1627, Great Crown Chancellor from 1628 to 1635, Bishop of Kraków from 1635, a diplomat, szlachcic (a legally privileged noble class) and a magnate in the Polish Lithuanian Commonwealth. Jakub Zadzik was in charge of the Republic's foreign policy and was attributed with the success of making peace with their neighbour Russia and establishing a ceasefire with Sweden. However, his work as a Bishop was less convincing as he contributed in the condemning of Polish Brethren during the Sejm of 1641.
The events of the period have been illustrated on the ceilings that were painted in 1641 and are now part of Poland's National Museum. You will also find other paintings on show at the Bishops' Palace.
The present cathedral is next to the Bishops' Palace and is on the site of an earlier church that was built around the time of Jakub Zadzik.
Poland is a country with a large variety of landscapes, a place where you can experience all four seasons. This provides the visitor with many opportunities for adventure and different activities and visiting attractions, whether you enjoy the mountains, lakes, rivers or the beaches you will find something that suits you.
If you see something you like or wish to know more about the activity or attraction please contact the provider directly as I do not take commission and I take the attitude that their own website will have more up to date details on what they offer than if I were to include it here.
What ever activity or attraction you run, you can advertise it on Kielce Travel Guide.
Activities & Attractions
Awaiting Article
This activity or attraction may just be the right one for you.
| | | | |
| --- | --- | --- | --- |
| Name of Activity | Street | Type | URL |
| Advertise your activity or attraction | ul.activity | Activity or Attraction | Hotel Poland |
Geography of Kielce
The region of Kielce is located in the northern part of Little Poland, situated between the rivers Vistula and Pilica. Because of the geologically features, it can be divided into the Świętokrzyskie Mountains, which are the culmination of the Kielce-Sandomierz Upland in the north and in the south the Nida Basin.
The Świętokrzyskie Mountains are a number of latitudinally stretching ranges. The most important ones are: Łysogóry – the central range with the highest hills: Łysica (612 m) and Łysa Góra (595 m); Jeleniowskie – the highest hill is Szczytniak (552 m); Klonowskie – Bukowa Góra (483.6 m); Masłowskie – Klonówka (472.6 m); Tumlińskie – Góra Wykieńska (400.7 m), Oblęgorskie – Góra Sieniewska (448.8 m); and the ranges: Dobrzeszowskie, Orłowińskie, Cisowskie, Ociesęckie.
The central part of the Nida Basin is a wide valley, delimited by the Solec Basin and Szaniec Plateau in the east and by the Jędrzejów Plateau and Miechów Upland in the west.
The main rivers in the region are the Nida (151 km), with its tributaries: Łośna, Bobrza and Mierzawa, and the Kamienna (138 km).
Its characteristic feature is the substantial difference of ground levels ranging from 260 to 400 metres. Within the boundaries of the city there are a greater variety of geological formations than in any other European city. There are five nature reserves in Kielce: Ślichowice, Kadzielnia, Wietrznia, Biesak (inanimate nature) and Karczówka (a landscape reserve). Near the northern border of Kielce is a semi-reserve Sufraganiec.
History of Kielce
The first known settlement was in the 11th century and achieving town status in 1360. Until 1789 Kielce was owned by the bishops of Cracow (Krakow) who ruled from the Cracow Bishop's Palace, a castle on top of the hill. The Palace was transformed from the Renaissance to Baroque in the 17th century and it now houses the National Museum including a gallery of Polish paintings by artists A. Gierymski and J. Pankiewicz and others. It was used as a prison in World War II and also by the Soviet regime.
Museums in Kielce
Polska is full of history and the Polish are great lovers of knowledge of the past so you will find many museums in the country, whether it be a folk, military, science, skansen, transport or any other type.
Poland has a long history and has been an important trading route that has been invaded by many different groups over the past 1,000 years. Museums are a great way to explore the nations history about the inhabitants of the land in the past, their lives and customs.
Accept a free advert about your museum and include it below by writing an article about it here on Poland Travel Guide. Follow the link for the article. For the rest, if you see something you like or wish to know more about please contact the museum directly as I take the attitude that their own website will have more up to date details on what they offer than if I were to include it here.
What ever museum you run, you can advertise it on Kielce Travel Guide at no cost.
Museums
Kielce Rural Museum
There are a number of old wooden village buildings on this 4.2 sq km site.
National Museum in Kielce
The National Museum in Kielce is an institution with over 100 years of tradition. Contained within its collection are valuable exhibits including paintings, arts and crafts, folk art, archaeology and articles to do with nature.
The museum is located within a perfectly preserved palace from the seventeenth century, which once belonged to the Bishops of Krakow. In the permanent exhibition you can admire the interior of the seventeenth and eighteenth century, the Shrine of Marshal Jozef Pilsudski and, in the north wing, the gallery of Polish painting and European decorative art.
The museum also organizes temporary exhibitions, concerts, lectures, workshops for children and young people and family events. Due to the long tradition of the museum it constantly strives to become more attractive and available to the public. In 2010, the palace was adapted to make it easier for the disabled to visit.
The Museum consists of different branches: Bishops' Palace, the Museum School Years Stefan Zeromski Mansion in Oblęgork Henryk Sienkiewicz, the Museum of the Dialogue between Cultures and Continents exhibition.
There is even a guest room available if you would like to stay and other rooms are available for hire.
Name of Museum
Address
Type
URL

Kielce Rural Museum

ul. Jana Pawła II 6
25-025 Kielce

Museum

www.mwk.com.pl

National Museum in Kielce

pl. Zamkowy 1, 25-010 Kielce

Museum

mnki.pl
Places to Eat in Kielce
There are many restaurants covering the usual pizza to those offering local Polish traditional and regional cuisine.
If you see something you like or wish to know more about please contact the place to eat directly as I do not take commission and I take the attitude that their own website will have more up to date details on what they offer than if I were to include it here.
If you wish to advertise your cafe, restaurant or bar on Kielce Travel Guide please advise me.
Places to Eat
Awaiting Article
This place to eat may just be the right one for your pallet.
| | | |
| --- | --- | --- |
| Name and website | Address | Type |
| Advertise your place to eat here | ul.eatingplace | Eating Place |
Tourist Information in Kielce
Poland Travel Guide - This web site will eventually have tourist information on most of the places in Polska. Being a web site you will be able to access the information on most digital platforms, including your laptop, personal computer or a mobile phone.
Tourist organisations are welcome to contact me for details on how to display their information on Kielce Travel Guide.
PTTK - Polish Tourist and Sightseeing Society is a non-profit organisation that you will find in many places in Poland.
It is one of the oldest tourist societies in Europe and was was created by the merger of two societies: Polish Tatry Society (1873) and Polish Country Lovers Society (1906).
Official Tourist Information Centres in Poland are divided into 1*, 2*, 3* and 4* Certified and Non-Certified. All Certified Tourist Centres provide information in one or more foreign languages and have an expanded range of services as compared to the Non-Certified.
Tourist Information
Awaiting Article
No further information as yet.
| | | | |
| --- | --- | --- | --- |
| Name of Tourist Office | Address | Type | URL |
| Regional Tourist Information Center | ul.Sienkiewicza 29 | Regional Tourist Center | swietokrzyskie.travel/en/ |
Transport in Kielce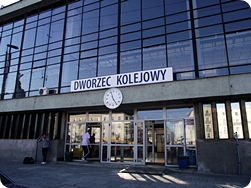 There are no international airports in the Świętokrzyskie region at the present time, with the nearest located in Kraków-Balice, Warsaw-Okecie and Rzeszów-Jasionka.
Here are some useful websites to help you find your way to this place.
Transport
Air Travel
At present, air services are only available to the residents of Kielce at Kielce-Masłów Airport, built in 1937, a civilian airport located in nearby Masłów (about 8.5km). It is not able to accommodate large passenger planes, because its runway is only 1200 metres.
Its reconstruction is seen as not viable and in June 2006 the decision was made about the location of a new airport near the village of the Obice Morawica, able to handle regular airlines. At present, land has been purchased for the investment.
Roads
Kielce is an important transport hub, and is on a number of international and domestic routes:
International Roads:
Route 7  (S7) Gdańsk – Elbląg – Warszawa – Radom – Kielce – Kraków – Chyżne
Route 73 Wiśniówka – Kielce – Tarnów – Pilzno – Jasło
Route 74 (s74) Sulejów – Kielce – Opatów – Szczebrzeszyn – Zamość – Border with Ukraine
Provincial Roads:
Route 745 Dąbrowa – Masłów – Radlin
Route 761 Kielce – Piekoszów
Route 762 Kielce – Chęciny – Małogoszcz
Route 764 Kielce – Suków – Raków – Staszów – Połaniec
Route 786 Kielce – Ruda Strawczyńska – Łopuszno – Włoszczowa – Koniecpol – Święta Anna – Częstochowa
Distances to Poland's major cities
Warszawa – 170 km
Kraków – 117 km
Katowice – 161 km
Łódź – 140 km
Wrocław – 302 km
Poznań – 340 km
Gdańsk – 474 km
Railways
The railway came to Kielce in 1885 when the construction of the line linking Iwanogród (Dęblin) and Dąbrowa Górnicza was completed. Today, Kielce is an important intersection with lines running to Częstochowa and Lubliniec, Warsaw (about 3 hours 30 minuets), Kraków (about 2hours 20 minuets) and Sandomierz.
Within the administrative boundaries of the city there are the following railway stations: Kielce Czarnów, Kielce Piaski, Kielce Białogon, Kielce Herbskie.
Buses and Coaches
Local buses are operated by the Municipal Transport Company and Kielce Bus Company Workers under an agreement signed with the Management of Urban Transport. Official transport services were first established on 22 July 1951, when the local transport department was created.
Websites of Kielce
If you have a website that is an official one linked to this town, or you administer a local community or an important trade site please contact me here at Kielce Travel Guide as I may be interested in including it.
Websites
Awaiting Article
No further information as yet.
| | | | |
| --- | --- | --- | --- |
| Name of Website | Address | Type | URL |
| Urząd Miasta Kielce | 25-303 Kielce, Rynek 1 | Offical Site | www.um.kielce.pl |