Provinces of Poland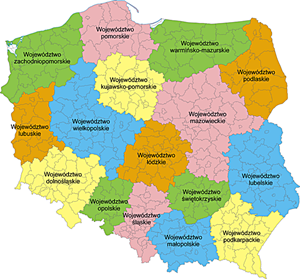 Poland is divided into 16 administrative divisions since 1999 and is now based on three levels of governance. The territory of Poland is divided into voivodeships (provinces or regions); these are then further divided into 314 powiats, 66 cities and towns with powiat status (counties or districts), and these in turn are divided into 2,479 gminas (communes or municipalities). On this site we have decided to use the Polish title for the name of these provinces with alternative names used somewhere on the page.
Public Administration System in Poland
The public administration system in Poland works on the decentralization principle, which ensures that the decision making and executing processes take place at the lowest possible level and closest to the citizen.
The Polish public administration system has many common qualities with systems of other European countries but also has typical elements exclusive to the Polish nation, due to historical, social and economic reasons.
There are 16 Voivodships (provinces) in Poland, 314 rural districts (Powiats), 66 municipal districts and 2,479 communes. The provinces of Poland today are mostly named after the historical and geographical regions of the country, while those in existence prior to 1998 generally took their names from the cities on which they were centred.
A Powiat (pronounced povyat) is the second level of Polish administrative division, between Voivodships and Communes. As such it is roughly equivalent to counties or districts in the United Kingdom. There is no official equivalent of the name in English.
Some of the towns in a Voivodship can be centres of more than one powiat. The reason is that in several cases the town itself and its surroundings form separate entities of administrative division. This is usually the case for large Polish cities, but can also apply to several smaller towns.
The term Voivodeship is an area administered by a Governor in several countries of central and eastern Europe. Voivodeships have existed since medieval times in Poland, Wallachia, Hungary, Lithuania, Latvia, Ukraine, Russia and Serbia.
For more information you can refer to the Central Statistical Office of Poland website.
The Sixteen Provinces of Poland are:
Provinces of Poland Coat of Arms
Provinces of Poland - Poland Travel Guide