Alwernia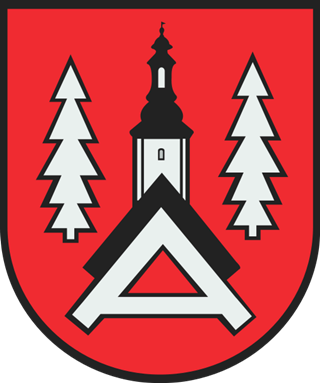 Alwernia Travel Guide - a small Polish town situated some 36 km west of Kraków in the Chrzanów district of the Lesser Poland Voivodeship or Małopolska. It is located to the north of the Wisła (Vistula) River and south of the Main highway E40. Alwernia is located on the Krakowsko-Częstochowska Highland.
The town, as well as possessing a large chemical works, is a centre for recreation and tourism and the size of the municipality covers: 75.27 km sq. The total population is over 12.5 thousand with the town of Alwernia about 3,300 people. The municipality includes the town and 10 villages Alwernia (Brodła, Grojec, Kwaczała, Mirow, Nieporaz, Okleśna, Podłęże, Poreba Zegota, Regulice, Sources).
Ecomony and Industry
The main employer is the Chemical Company, Alwernia S.A. which has won the award for; The Pearl of the Polish Economy and Distinguished Exporter of the Year 2009. It produces Phosphorus compounds, Fodder additives, Fertilizers and Chromium compounds and the original works was first established in 1923. The manufactured products are used in washing powder production, the food and pharmaceutical industry, tannery, the galvanizing industry, paint and enamel coating production.
Alvernia Studios is a highly modern film studio based just to the north of Alvernia on the national road route A4. The facility combines complex film services with investment in its own productions and co-productions. The studio produces international features for theatrical releases, video games, music projects and commercials.
The development of the studio was entirely and exclusively financed from private investments. It was founded by broadcasting executive Stanisław Tyczyński, a Polish entrepreneur, the founder and former owner of RMF FM: the first Polish private radio station, which has developed one of the highest audience ratings among European broadcasters.
Alwernia Travel Guide
Poland Travel Guide
This guide is a travel Guide including accommodation about the country of Polska which is located in central Europe. You are very welcome to visit my site and I hope that you will enjoy the experience.
My guide is easy to use as each village, town and city has it's own page with useful information for the visitor. Not all sections appearing on the left of my guide, on this place may have information as this is an ongoing project.
It may be the case that some sections on Alwernia Travel Guide have not yet been reviewed and written about so if you can contribute any information about Alwernia to improve this guide please send it to me.
Accommodation in Alwernia
You will find the full range of accommodation in Alwernia from the most luxurious five star hotels with up to date and modern amenities to pensions (a type of guest house or boarding house) and rooms or apartments at very reasonable prices. Some of the larger towns and cities will also have hostels.
If you prefer your accommodation in a more rural location there are a number of "Agro" style of accommodation places on farms and in the countryside plus there may be camp sites nearby.
If you wish to advertise your accommodation on Alwernia Travel Guide or this website please get in touch with me.
Accommodation
Awaiting Accommodation Article
This place to stay may just be the right accommodation for you.
| | | | |
| --- | --- | --- | --- |
| Name of Accommodation | Address | Type | URL |
| Hotel Poland | Full Advert Example | Hotel Poland | Hotel Poland |
| Ośrodek Turystyki Konnej Modrzewiowy Jar | ul. Modrzewiowa 2, 32-566 Alwernia, Poland | Farm Stay | Facebook Page |
Activities in Alwernia
Alwernia is beautifully situated on the Vistula River, the longest river in Poland, picturesque Jurassic landscape parks with scenic views of forests and a river valley that often floods encouraging water loving birds. Recreation and sport includes fishing for anglers, walking or hiking and cycling.
Poland is a country with a large variety of landscapes, a place where you can experience all four seasons. This provides the visitor with many opportunities for adventure and different activities, whether you enjoy the mountains, lakes, rivers or the beaches you will find something that suits you.
If you see something you like or wish to know more about please contact the activity provider directly.
What ever activity you run, if you wish to advertise your activity on Alwernia Travel Guide or this guide please get in touch with us.
Activities
Krakow-Moravia-Vienna Greenway
The "Krakow-Moravia-Vienna Greenway" (The longest alley of fruit trees in Europe) is a heritage trail route based on a network of cycling, hiking, water, horse, educational and other thematic trails.
The main backbone of the Greenway is a 780 km-long trail, providing access to historic, cultural and natural resources in the heart of Central Europe.
Beginning in Krakow, a city located in the Jura Upland, the Greenway runs through Alwernia and the Oswiecim Valley, the Pszczyna region and Cieszyn Silesia in Poland.
The trail leads through the forested Beskydy Mountains in the Polish Czech border region, to the vineyards of Southern Moravia and Lower Austria, ending up in Vienna.
As part of the Greenway, local communities are encouraged to plant local fruit tree varieties along the trail, to make the Krakow-Moravia-Vienna Greenway the longest alley of fruit trees in Europe. Green Badge Greenways promotes natural and cultural heritage of Polish regions and promotes sustainable development through environmentally friendly tourism, promotion of local production and social initiatives. For more information visit Greenways
International Cycling Routes
Within the municipality of Alwernia there are two international cycling routes; Krakow-Moravia-Vienna Greenways and Eurovelo R4 which connects to the local cycle path network.
Route R4 is one of 14 European EuroVelo cycling routes starting at Roscoff in France and ending at Kyiv in the Ukraine. EuroVelo Route R4 section Pszczyna to Krakow coincides with the route Kraków Moravia Vienna on the Greenways network.
Local Cycling Routes
There is the Orange bike trail starting at the market in La Verna which runs through scenic places in the municipality ending at the castle in Rudno. For part of the trail it runs through scenic forest on the embankment of the former narrow-gauge railway, which in the 50's was used to transport stone from the quarry to the railway station Orla in Okleśnej (including municipal trail is marked symbolically railway track in black). The length of this trail is about 31 km.
Local bike trail black: connecting Lipowiec castle and the castle in Rudno, which runs through the area of La Verna and includes local tourist destinations and places of culture such as Skansen in Wygiełzów, castle in Lipowiec, the forest at Simota, Monastery and Fire Museum of La Verna, viewing platforms in Kwaczała and Regulice, Forest Dulowska, Alvernia Studios film company in Nieporaz and the lock Tęczyn in Rudno. The length is about 39 km.
There is also a 9.5km bike trail, known as the red route starting and finishing at Lark taking in the sights of a park churches and Gaudynowskie Rocks Situated in the valley of the creek Brodło between Brodłami and Poreba Żegoty. It is a group of rocks of Jurassic, which due to the original shapes were considered a natural monument. Rare specimens of flowering ivy rocks are divided into a deep and wide ravine. Gaudynowskie Rocks is a perfect area for recreation and relaxation in the vicinity of unspoiled nature.
| | | | |
| --- | --- | --- | --- |
| Name of Activity | Address | Type | URL |
| Krakow-Moravia-Vienna Greenway | 31-005 Krakow, 6/6 Bracka Street | Heritage Trail | www.greenways.by |
Attractions in Alwernia
Polska is a country with a large variety of attractions for the tourist to visit, a place where you can experience all sorts of places to see. This provides the visitor with many opportunities for learning about the country, whether you enjoy the many monuments, historic churches or buildings, history of places, or more modern attractions, you will find something that suits you.
If you see something you like or wish to know more about please contact the attraction provider directly.
Attractions
Monuments
There are two well known monuments in Alwernia: The Baroque monastery and church of the Bernadite Brothers which replaced a 17th-century, wooden church, with its characteristic tower, which rises scenically above the hill of Alwernia, which is now the symbol of the town.
Jurassic Scenic Park
In the vicinity there is a Jurassic Scenic Park, a nature reserve of inanimate sources of clean water and Arkoza Jurassic Kwaczalska or Carboniferous petrified araucaria trunks.
Ecomuseum Alwernia
Another attraction is the "Ecomuseum Alwernia" showing crafts including pottery a workshop with the Chamber of regional traditions, showing a dispersed network of natural objects that illustrate both the local inhabitants' and nature's heritage, such as the Gaudynowskie rocks, Regulice pottery workshop and a historic urban layout of the city.
| | | | |
| --- | --- | --- | --- |
| Name of Attraction | Address | Category | Site |
| Advertise your attraction here | ul.attraction | Castle | www.website.com |
Geography of Alwernia
Alwernia being located in the Chrzanów District is situated in the north-western part of Małopolska Province, on the border of Kraków-Częstochowa Upland and Silesian Upland. From the geographical standpoint, the district is favourably located between two major Polish cities Kraków and Katowice both of which are regional cities of Polish provinces.
History of Alwernia
The towns name is derived from St. Francis in Tuscany (In Italian, La Verna, in Latin Alvernia) in 1616. The monastery was built on a hill between the years 1625 to 1656, with the church following being built between the years 1630 to 1676. Around the monastery a settlement grew, which later became the centre of the village Alwernia. In 1776 the settlement received the privilege of being able to organise fairs and in 1796 was known as a economic and administrative centre. The owners at this period of La Verna's history were Szembek.
La Verna is closely linked with the history of the monastery of the Bernardine Fathers. It was founded by the castellan Krzysztof Koryciński. Koryciński was enchanted by the beauty of Tuscany and the depths of the spiritual atmosphere of the place and decided on returning to Poland to create a similar place that would mimic the Italian original.
At this time, in nearby Zebrzydowo, Nicholas Zebrzydowski established the first Polish Calvary and St. Bernardine Monastery. The place pleased two enlightened monks Christopher Scipio Campo and Piotr from and on the western slope built a wooden church dedicated to St. stigmata. The first Guardian was Father Daniel from Krakow.
The wooden church existed until 1661 but construction of a brick church was not completed until 1676. The church was built in the Baroque style. In 1660 the church was consecrated by the Bishop of Krakow, Andrzej Trzebicki. The construction of the monastery also took a long time and the work was finally completed around 1656. In the years 1703 to 1708 a small chapel was added to house the miraculous image of Jesus . In 1897 a 55-meter tower was added to house the bells which had been donated by Upper Silesians.
On the eastern side of the monastery founded in the eighteenth century there was a village, situated in the estate of Alexander Szembek. The development of the town was due to the influx of pilgrims, who were visiting the miraculous painting of Jesus in the church of the Bernardine Fathers. In 1796 Alwernia is mentioned as a town with a large rectangular market.
Somewhat earlier, in 1778 King Stanislaw August Poniatowski gave La Verna the privilege of being a marketplace. There were up to twelve major markets, which had an economic impact on the town.
By the end of the eighteenth century there were 33 houses in La Verna, and there were 208 inhabitants. Among the population were, potters, butchers, bakers, peddlers, shoemakers, carpenters, an innkeeper and weavers.
Since 1845 the town has had a coat of arms which was submitted to the church with a tower between two fir trees. By the nineteenth century there were 77 houses and 524 inhabitants recorded including the Jews.
In 1859 the town opened a one-class school due to the initiative of Felix Florkiewicza the School was established which unfortunately did not last very long.
In 1896 the construction of railway line to Auschwitz Trzebinia was completed.
Finally, in 1993 Alwernia was granted full civic status.
Museums in Alwernia
Polska is full of history and the Polish are great lovers of knowledge of the past so as a tourist you will find many museums throughout the nation.
Poland has a long history and has been an important trading route that has been invaded by many different groups over the past 1,000 years. Museums are a great way to explore the nations history about the inhabitants of the land in the past, their lives and customs.
Some of the museums shown below may have an article about them here on our guide. Follow the link for the article. For the rest, if you see something you like or wish to know more about please contact the museum directly.
Museums
Lesser Poland Fire Museum
You may also like to visit the Lesser Poland Fire Museum in La Verna" >Lesser Poland Fire Museum in La Verna. The Lesser Poland Fire Museum was founded on May 4th, 1953 at the initiative of Captain. Zbigniew Conrad Gęsikowskiego.
| | | | |
| --- | --- | --- | --- |
| Name of Museum | Location | Class | Website |
| | | | |
Places to Eat in Alwernia
There are many restaurants covering the usual pizza to those offering local Polish traditional and regional cuisine.
What Wikipeda says about Polish Cuisine
Polish cuisine (Polish: kuchnia polska) is a style of cooking and food preparation originating from Poland. It has evolved over the centuries due to historical circumstances. Polish national cuisine shares some similarities with other Central European and Eastern European traditions as well as French and Italian similarities. It is rich in meat, especially pork, chicken and beef (depending on the region) and winter vegetables (cabbage in the dish bigos), and spices.
It is also characteristic in its use of various kinds of noodles the most notable of which are kluski as well as cereals such as kasha (from the Polish word kasza). Generally speaking, Polish cuisine is hearty and uses a lot of cream and eggs. The traditional dishes are often demanding in preparation. Many Poles allow themselves a generous amount of time to serve and enjoy their festive meals, especially Christmas eve dinner (Wigilia) or Easter breakfast which could take a number of days to prepare in their entirety.
The Polish national dishes are bigos; pierogi; kielbasa; kotlet schabowy (type of breaded cutlet); gołąbki (type of cabbage roll); zrazy (type of roulade); roast (Polish: pieczeń); sour cucumber soup (Polish: zupa ogórkowa); mushroom soup, (Polish: zupa grzybowa) (quite different from the North American cream of mushroom); tomato soup (Polish: zupa pomidorowa); rosół (variety of meat broth); żurek (sour rye soup); flaki (variety of tripe soup); and barszcz among others.
If you see something you like or wish to know more about please contact the place to eat directly.
If you wish to advertise your place to eat on Alwernia Travel Guide or elsewhere on this guide please use our contact form.
Places to Eat
Restauracja Cztery Pory Roku
Restauracja Cztery Pory Roku (The Four Seasons Restaurant) is located in Alwernia (La Verna) situated in the picturesque and wooded area of Jura, not very far from the regional city of Krakow, about 30 minutes by car. The restaurant is located directly on the provincial road No. 780 from Krakow to Oswiecim.
It has a wide range of menus, dishes inspired by Polish and European cuisine which aims to satisfy the most demanding tastes of guests. Open every day from 10.00am to 21.00pm. tel. +48 504 916 848 e-mail: biuro@alwernia4poryroku.pl
Free 13 August 2013
| | | | |
| --- | --- | --- | --- |
| Name of Eating Place | Location | Type | URL |
| Restauracja Cztery Pory Roku | ul. Adama Mickiewicza 1e 32-566 Alwernia | Polish Restaurant | www.alwernia4poryroku.pl |
Tourist Information in Alwernia
We will eventually have tourist information on most of the places in Polska. Being a web site you will be able to access the information on most digital platforms, including your laptop, personal computer or a mobile phone.
Tourist organisations are welcome to contact me for details on how to display their information on the site.
PTTK - Polish Tourist and Sightseeing Society is a non-profit organisation that you will find in many places in Poland.
It is one of the oldest tourist societies in Europe and was was created by the merger of two societies: Polish Tatry Society (1873) and Polish Country Lovers Society (1906).
Official Tourist Information Centres in Poland are divided into 1*, 2*, 3* and 4* Certified and Non-Certified. All Certified Tourist Centres provide information in one or more foreign languages and have an expanded range of services as compared to the Non-Certified.
Tourist Information
Awaiting Article
No further information as yet.
| | | | |
| --- | --- | --- | --- |
| Name of Tourist Office | Address | Category | URL |
| Chrzanów District Tourist Information Centre | ul. Lipowiecka 3 Chrzanów | Official Tourist Information Centre | www.visit.powiat-chrzanowski.pl |
Transport in Alwernia
There is a well developed transportation network, including the A4 motorway and the railway running parallel to it, ensures efficient communication links. Also, close to the county's territory, there are two airports: the first one is in Balice near Kraków, while the second one lies around 85 km from Alwernia, in Katowice-Pyrzowice.
Here are some useful websites to help you find your way to this place.
Transport
Websites of Alwernia
If you have a website that is an official one linked to Alwernia, or you administer a local community or an important trade site please let us know as I may be interested in including it on Alwernia Travel Guide.
Websites
Awaiting Article
No further information as yet.
| | | | |
| --- | --- | --- | --- |
| Name of Website | Place | Class | URL |
| Alwernia | ul.website | Offical Site | www.alwernia.pl |