Gdańsk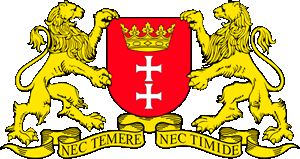 Gdańsk Travel Guide - Gdańsk is a place in north central Poland in the province of Pomorskie. Gdańsk, formerly known by its German name Danzig, is Poland's principal seaport as well as the capital of the Pomeranian Voivodeship and is situated on the Baltic coast in northern Poland at the centre of the country's fourth-largest metropolitan area.
Gdansk is located on the north Polish coast at Gdansk Bay, which is a part of the Baltic Sea and enclosed to the west by the Hel peninsula. The major Polish river the Vistula has no distinct delta, but has formed several arms extending out towards the Baltic Sea. One of these is the Motlawa River, and the city has been developed at this location.
The city lies on a coastal plain which spreads from the Baltic Sea towards the uplands of the Kashubian Lakeland laying on the southern edge of Gdańsk Bay, in a conurbation with the spa town of Sopot, the city of Gdynia and suburban communities, which together form a metropolitan area called the Tricity (Trójmiasto), with a population of over 800,000. Gdańsk itself has a population of 455,830 as of June 2009, making it the largest city in the Pomerania region of Northern Poland.
Economy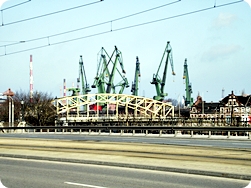 Located at the mouth of the Motława River it is connected to the Leniwka, which is a branch in the delta of the nearby Vistula River, whose waterway system supplies around 60% of the area of Poland and connects Gdańsk to the national capital in Warsaw. This gives the city a unique advantage as the centre of Poland's sea trade. Together with the nearby port of Gdynia, Gdańsk is also an important industrial centre. Historically an important seaport and shipbuilding centre.
The city was also the birthplace of the Solidarity movement which, under the leadership of Gdańsk political activist, Lech Wałęsa, played a major role in bringing an end to Communist rule across Central Europe. It was also the home and birthplace of Polish Prime Minister Donald Tusk, who is of Kashubian origin.
There are seven schools of higher education such as the Baltic Institute, the Maritime Institute and research centres of the Polish Academy of Sciences.
As for culture in Gdańsk there is the State Baltic Opera, Baltic Philharmonic and Wybrzeze (coast) Theatre.
Erik Gauger about Gdańsk and his great looking site, -Notes From The Road"
Gdańsk Travel Guide
Poland Travel Guide Information
Poland Travel Guide is a travel Guide about the country of Polska which is located in central Europe. You are very welcome to visit my site and I hope that you will enjoy the experience.
The guide is easy to use as each village, town and city has it's own page with useful information for the visitor. Not all sections appearing on the left of my guide, on this place may have information as this is an ongoing project.
If you can contribute any information about this place to improve Gdańsk Travel Guide please send it to me.
Accommodation in Gdańsk
Gdańsk is a very large city and there are many places where you can stay.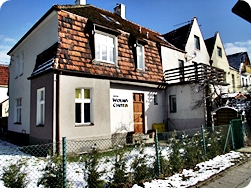 On my trip in March 2011 I stayed at a hostel called, Wolna Chata meaning "free house" a place where you can invite your friends to. Just ten minuets away from the centre of Gdańsk by the commuter train SKM at a place called Oliwa. Had a great time and the people running it do everything they can to help you enjoy your time in Gdańsk. Private rooms are available at very reasonable costs including a light breakfast or you can stay in dorms for even cheaper prices. Wifi available free of charge.
You will find the full range of accommodation in this town from the most luxurious five star hotels with up to date and modern amenities to pensions (a type of guest house or boarding house) and rooms or apartments at very reasonable prices. Some of the larger towns and cities will also have hostels.
If you prefer to stay in a more rural location there are a number of "Agro" style of accommodation places on farms and in the countryside plus there may be camp sites nearby.
If you see something you like or wish to know more about please contact the accommodation directly as I do not take commission and I take the attitude that their own website will have more up to date details on what they offer than if I were to include it here.
If you wish to advertise your accommodation on Gdańsk Travel Guide or this website please contact me.
Accommodation
Awaiting Accommodation Article
This place to stay may just be the right accommodation for you.
Activities in Gdańsk
Poland is a country with a large variety of landscapes, a place where you can experience all four seasons. This provides the visitor with many opportunities for adventure and different activities, whether you enjoy the mountains, lakes, rivers or the beaches you will find something that suits you.
If you see something you like or wish to know more about please contact the activity provider directly as I do not take commission and I take the attitude that their own website will have more up to date details on what they offer than if I were to include it here.
What ever activity you run, you may like to advertise your activity on Gdańsk Travel Guide or this website.
Activities
Awaiting Activity Article
This activity may just be the right one for you.
| | | | |
| --- | --- | --- | --- |
| Name of Activity | Address | Type | URL |
| Advertise your activity here | ul.activity | Canoeing | Hotel Poland |
Attractions in Gdańsk
This city has many places for the visitor to see some of them are listed below: –
Churches
St Johns Church dates back to the fourteenth century.
St Mary's the largest Gothic brick built church in the world.
St. Nicholas this place of worship was built between 1348 and 1390 on the site of an even older temple from the late twelfth century.
Exhibitions
Roads to Freedom a brilliant look back at the struggles for freedom from the communist authorities.
History
Crane – a 15th century relic from the city's merchant past.
Gate 2 of the Gdańsk Shipyard this famous gate linked to the trade union movement, Solidarity.
Great Armoury built around 1600-09 on the medieval line of the old city walls.
Nowy Port Lighthouse– still bears the scars of the first shots fired in the Second World War.
Old Town rebuilt after the Second World War depicting the merchant past of Gdańsk.
The Royal Way - including the Golden Gate, Long Street, Main Town Hall, Artus Court, Long Market & Neptune Fountain and the Green Gate.
Westerplatte - situated on a sandbank in the Bay of Gdańsk, Baltic Sea.
Monuments
Great Mill erected by the Teutonic Knights in the 14th century and is regarded as the largest civil construction of its day in Gdańsk.
Jan III Sobieski Monument a bronze statue erected in 1897 in memory of this Polish King.
Józef Piłsudski Monument a statue of the inter-war leader and now regarded as one of the national hero's of Poland.
Poland is a country with a large variety of attractions for the tourist to visit, a place where you can experience all sorts of places to see. This provides the visitor with many opportunities for learning about Polska, whether you enjoy the many monuments, historic churches or buildings, history of places, or more modern attractions, you will find something that suits you.
If you see something you like or wish to know more about please contact the attraction provider directly as I do not take commission and I take the attitude that their own website will have more up to date details on what they offer than if I were to include it here.
What ever attraction you run, you can advertise it on Gdańsk Travel Guide.
Attractions
Awaiting Attractions Article
This place has many attractions for you to enjoy.
| | | | |
| --- | --- | --- | --- |
| Name of Attraction | Address | Type | URL |
| Advertise your attraction here | ul.attraction | Castle | Hotel Poland |
Geography of Gdańsk
Awaiting details.
History of Gdańsk
The history of Gdańsk dates back to the 7th century when the area was populated by small fishing hamlets at the head of the largest river in Poland, the Vistula. This led to the towns development as it became an important trading route via the Baltic Sea.
It is also historically the largest city of the Kashubian region with a known commercial harbour dating back to the 10th century. The city is close to the former boundary between West Slavic and Germanic lands and it has a complex political history with periods of Polish rule, periods of German rule, and two spells as a free city. It has been part of modern Poland since 1945.
In the year 997 (10th century) the Bishop of Prague, Adalbert christened the inhabitants of this fishing village and Gdansk was born.
Trading vessels from England, Sweden and the Walloon Lands (now a part of Belgium) use Gdansk as a trade route during the 13th century. The Teutonic Knights (from Germany) start to penetrate Polish territory from the west in 1226.
Between 1308 and 1454 it was under the control of the Teutonic Knights and from 1361 it was a member of the Hanseatic League, trading with many European states. The settlement known today as the main town was granted municipal rights by the Teutonic Knights, whereas the old town received its town charter in 1377.
The 14th century sees the Teutonic Knights attacking Gdańsk in 1308 and making their capital at Malbork on the banks of the Vistula, laying 60km to the south. In 1361 Gdańsk joins the Hanseatic League, which was a mercantile organisation and led to the town, due to it's position as a sea port, gaining further importance and it prospered much.
During the 15th century the Polish-Lithuanian armies defeated the Teutonic Knights at the Battle of Grunwald in 1410 which halted the German expansion towards the east.
The town prospered during the 16th century due to it's sea port and passing trade. The culture of the town also began to take shape as the ethic mix included Polish, Germans, Dutch, Jewish and Scotsmen.
The 18th century saw Poland become the playground of the Russian Tsar, Peter the Great and in 1734 the Russian army surrounded Gdańsk. The first partition of the nation is imposed by Austria, Prussia and Russia in 1773 and the life of the town begins to decline as the trade routes are lost. An agreement between Russia and Prussia in 1793 sees the second partition of Poland with a third by way of agreement with all three occupying forces in 1795 ending the independence of the nation for more than a century.
Gdańsk became a free city in the 19th century under the French but when Napoleon was defeated and the Congress of Vienna in 1815 was established a new partition came into being and Danzig (as it was then known) was returned to Prussia. In 1871 it was fully incorporated into the German Empire.
Second Polish Republic
After Poland regained it's independence on the 11 November 1918 at the end of the first World War and the start of the second Polish Republic, with Germany defeated, the city was sort after by both Germany and Poland. At the League of Nations it was decided that due to the city's population mainly being German it would not be appropriate to give it to Poland so it was given the status of a Free City in 1920 and known as Danzig with its own parliament, postal system and currency.
World War II
On 1st September 1939 at about 4:30 in the morning a German Battleship the Schieiswig Holsten opened fire on a Polish defended strip of land known as Westerplatte at the mouth of the harbour of Gdańsk and World War II began. There were just 210 brave Polish Soldiers who defended the city for seven days and are remembered by a Monument to the Defenders of Westerplatte erected in 1966.Once again the nation falls under occupation, this time from the ruthless and evil Nazi neighbours and between 1940 and 1944 some of the worst acts by human beings are carried out on the Poles and Jews by the Third Reich with over 6 million Poles including 3 million Jews being slaughtered. Many of the Jews in Gdańsk did manage to escape the Germans but the Polish intelligentsia in the city were rounded up and murdered in the death camp at Stutthof, or Sztutowo a town about 36km to the east of Gdańsk, (It is thought that more than 85,000 victims died in the camp during WWII).
During the Second World War, the city was bombed heavily by the British RAF and the advancing Soviet (Russian) army seized the city on the 28th March 1945 but by then most of it had been reduced to rubble.
On the 1st September 1939 World War II started at Gdańsk when the German training battleship, Schlezwig-Holstein opened fire on the Westerplatte promontory at 04.45 in the morning. About 90% of the old town was destroyed in World war II. Many of the destroyed buildings were rebuilt after the war.
The Soviet Era
Gdańsk was restored to Poland in 1945 but the nation itself was under the control of the Soviet leadership from Russia and many of the Germans still living in the city were exiled and replaced by those from the east of Poland. It is believed that elections held in 1947 were rigged by the Soviets and in 1955 the Warsaw Pact was established. Over the following 20 years the city of Gdańsk was rebuilt.
By 1968 there was growing disenchantment with the communist system together with the oppression it created and in 1970 Gdańsk was once again thrust into world changing events that would eventually lead to the fall of the Soviet system. In December of 1970 the shipyard workers at Gdańsk went on strike due to their poor living standards. The army intervened to put a stop to the protests and 44 lives were killed. Also in the same year the West German chancellor, Willy Brandt, formally renounced Germany's territorial claim to the city of Gdańsk.
The following 20 years was a difficult struggle for the life of the city and people of Poland with internal disputes about communism, not all people wanted a change of the system but Gdańsk played an important part and a general strike was called in August 1980 by the recently formed Solidarność (Solidarity) the Polish trade union led by the shipyard electrician Lech Walesa (born in Popowo, Poland, on 29 September 1943). The response by the authorities was to impose martial law in 1981 and in 1982 Solidarność is outlawed and the leadership imprisoned. Many others involved in the movement are forced to go underground but the people wanted change and many thousands took sanctuary in St. Mary's church in Gdańsk. Martial law was lifted in 1983 and Lech Walesa was awarded the Nobel Peace Prize.
Between 1983 and 1989 more freedoms were introduced under the Soviet leadership of President Mikhail Gobachev's perestroika. More strikes in 1988 and the weakening economy of Poland led to talks between General Jaruzelski and Solidarność and in 1989 power sharing began to take shape. Free elections were held and the Russian Soviet communist system began to collapse across it's empire. Gdańsk once more had become a major player in the shaping of the future new political map of Europe.
A New Era for Gdańsk and Poland
Lech Walesa was elected President in 1990 and a new era began but in 1995 he was replaced by Aleksander Kwasniewski and in 1996 the shipyards at Gdansk are declared bankrupt.
In July of 2001 there were serious flash floods in the tri-city area due to intensive rainfall falling on the moraine hills in the west and it being situated within a geological system of rivers and channels called the, "Gdañsk Water Node" (GWN) resulting in the death of three people.
On 10th of April 2010 in Poland's worst aviation disaster 96 high-ranking Poles lost their lives including the president of Poland, Lech Karczynski and his wife, together with a number of Gdanskians such as Anna Waletynowicz from Solidarność and Senator Maciej Placzynski and Member of Parliament, Arkadiusz Rybicki.
Today the city is a thriving economic area with ever increasing tourism and a playground for the well-off poles at it's tri-city neighbour Sopot.
Museums in Gdańsk
Amber Museum this is Poland's famous export product you will find out about it's history here.
History of Gdańsk Museum located in the old Town Hall depicts the history of the city and surrounding region.
Maritime Museum and the ship Soldek all about the Polish seafaring way of life.
Museum of the Second World War - The first shots of the Second World War were fired at Westerplatte.
Polska is full of history and the Polish are great lovers of knowledge of the past so you will find many museums in the country.
Poland has a long history and has been an important trading route that has been invaded by many different groups over the past 1,000 years. Museums are a great way to explore the nations history about the inhabitants of the land in the past, their lives and customs.
Some of the museums shown below may have an article about them here on Poland Travel Guide. Follow the link for the article. For the rest, if you see something you like or wish to know more about please contact the museum directly as I take the attitude that their own website will have more up to date details on what they offer than if I were to include it here.
What ever museum you run, you can advertise it on Gdańsk Travel Guide at no cost.
Museums
Awaiting Museum Article
This museum is full of interesting things to see.
| | | | |
| --- | --- | --- | --- |
| Name of Museum | Address | Type | URL |
| Amber Museum | ul. Długa 46/47, Gdańsk | Trade Museum | |
| History of Gdańsk Museum | ul. Długa 46/47, Gdańsk | City Museum | muzeumgdansk.pl |
| Maritime Museum Ship Soldek | ul. Ołowianka 9-13, Gdańsk | Ship Museum | www.nmm.pl |
| Museum of the Second World War Gdańsk | ul. Długa 81-83, 80-831 Gdańsk | War Museum | www.muzeum1939.pl |
Places to Eat in Gdańsk
There are many restaurants covering the usual pizza to those offering local Polish traditional and regional cuisine.
If you see something you like or wish to know more about please contact the place to eat directly as I do not take commission and I take the attitude that their own website will have more up to date details on what they offer than if I were to include it here.
If you wish to advertise your place to eat on Gdańsk Travel Guide let us know.
Places to Eat
Awaiting Article
This place to eat may just be the right one for your pallet.
| | | | |
| --- | --- | --- | --- |
| Name of Eating Place | Address | Type | URL |
| Advertise your place to eat here | ul.eatingplace | Any Type | www.website.com |
Tourist Information in Gdańsk
One of the first stops you should make is to the local tourist office as this is where you can pick up maps and brochures and discover what events are currently occurring.
A national website like this is a good starting point but there will always be new (and old) attractions that are not included so pop along to the local tourist office to get the latest info.
The City Tourist Office (Gdańsk Organizacja Turystyczna) is located at ul. (street) Heweliusza 27, and is open from 8am to 4pm Monday to Friday. website tele: 058 301 4355
Gdańsk Tourist Organization (GOT) is an association operating since 2002. At the beginning of 2011 it had over 100 active members whose common goal is to develop and promote tourism both in Gdańsk and the wider Pomeranian region.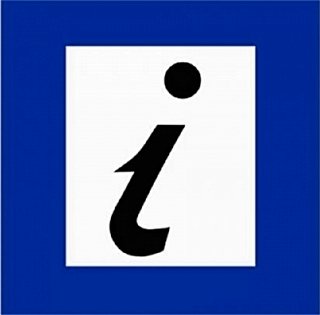 Poland Travel Guide This web site will eventually have tourist information on most of the places in Polska. Being a web site you will be able to access the information on most digital platforms, including your laptop, personal computer or a mobile phone.
Tourist organisations are welcome to contact me for details on how to display their information on Poland Travel Guide.
PTTK Polish Tourist and Sightseeing Society is a non-profit organisation that you will find in many places in Poland.
It is one of the oldest tourist societies in Europe and was was created by the merger of two societies: Polish Tatry Society (1873) and Polish Country Lovers Society (1906).
Official Tourist Information Centres in Poland are divided into 1*, 2*, 3* and 4* Certified and Non-Certified. All Certified Tourist Centres provide information in one or more foreign languages and have an expanded range of services as compared to the Non-Certified.
Tourist Information
Tour Guides in Gdansk
Below is a list and brief description of the tour guides available in Gdansk, when this article was written as of March 2011.
Agnieszka Syroka – telephone: (+48) 502 55 45 84
English speaking tour guide for the city of Gdańsk. If you contact them in advance they will design into the tour the items that you wish to see. The price is negotiable based on the time and places you wish to see. They will also take you to other nearby tourist places like Malbork and Frombork.
Audio Guides – Tourist Info located on Długi Targ 28/29
These are easy to use audio guides available in three different languages with a total of twenty four recordings to choose from, including eleven on the sights of the city and two about it's history. A tourist map is also included that will aide you on your independent tour of Gdańsk.
Elitours and Guides – telephone: (+48) 880 56 24 46 – website: www.elitours.pl
A licensed tour guide with prices starting at 100zl as of March 2011. Three languages in English, German and Russian and tailor made tours are available, including night tours with both individuals and groups catered for.
Ewa Heliosz – telephone: (+48) 691 77 55 47 – website: www.stadt-fuhrungdanzig.com
A local experienced tour guide offering tours in all three cities of this Tri-city area. Available in two languages, German and Polish with tours to Malbork if wanted.
FiFi Travel ul. Ogarna 76/77 – telephone: (+48) 606 63 25 50 – website: www.fifitravel.pl
This is a local international travel agent offering regional tours and to other places further afield. Tours range from three hours covering the Old Town, to longer ones taking in the whole tri-city area. Tours to Hel, Malbork, Łeba, Kashubia and Frombork are also available.
Joy trip – ul. Fieldorfa 11/3 (Orunia Gorna) – telephone: (+48) 58 320 61 69 – website: www.joytrip.pl
This tour guide will arrange tailor made tours, providing you contact them in advance. Specialising in tours about the collapse of communism.
Katarzyna Korzeniowska – telephone: (+48) 504 73 74 63 – website: www.kkorzeniowska.com.pl
If you want to have a local person from Gdańsk be your guide then Katarzyna is the one for you. As a native Gdańszczanki she knows the place very well and just loves to share it with others.
Regional office of PTTK Tour Guides – ul. Ogarna 76/77 – telephone: (+48) 58 306 38 65
A long established tour guide service in many different languages.
Stena Line Guided Tours – telephone: (+48) 502 74 35 14
This ferry line offers guided tours of the city in Swedish.
| | | | |
| --- | --- | --- | --- |
| Name of Tourist Office | Address | Type | URL |
| Gdańsk Organizacja Turystyczna | ul.Heweliusza 27 | Official Tourist Information Centres | www.gdansk4u.pl |
Transport in Gdańsk
Gdańsk is positioned on the Baltic coast in the north of Poland in the region of Pomorskie and is a transport hub for the area. Besides the many local buses and an extensive tram system covering most of the districts there are also wide pavements with cycle ways on most main routes. Walking around Gdańsk will help the visitor to take in the sights, smells and sounds of this northern Polish tri-city.
Airports
The city has an important international airport, Gdansk Lech Walesa Airport, in Rebiechow, about 8 km from the centre of Gdańsk, with connections to other major polish cities and many international locations across the world.
Gdańsk Lech Walesa Airport
ul. Słowackiego 200, 80-298 Gdańsk
phone +48 58 348 11 63
fax +48 58 345 22 83
Lech Walesa Airport, is one of three main international airports in Poland with Warsaw and Cracow being the other two. Its position today is due to the connection it has within the European airports network and in response to the fast growing demand for business and economy passengers arriving at Gdańsk.
The airport in Rebiechowo is just 10 km away from Gdańsk city centre, with a similar distance from Sopot and 23 km from Gdynia city centre. New roads are being built which will allow passengers to reach Gdańsk city centre in about 15-20 minuets. Proximity to the Tri-city ring-road and the intersection with national roads numbers 1, 6 and 7 enables onward travel to other locations in the region.
Lech Walesa Airport is situated in the heart of the Pomeranian region and serves mainly the Pomorskie province which has approximately 2.2 million inhabitants, covering 18 293 km2 or 5,9 % area of Poland. Almost half of this population live in the Tri-city agglomeration. Due to the growing number of airway connections and the convenient access, Gdańsk Airport serves not only the Tri-city area but also other cities like Elbląg, Toruń, Szczecin and Koszalin.
Getting to and from the airport
Probably the easiest way is by taxi.The taxi rank is situated in front of the Passenger Terminal main entrance and currently services are offered by CITY PLUS TAXI 9686. Expect (March 2011) the average prices to be as follows: PLN 40.00 (from Gdansk), PLN 50.00 (from Sopot) and PLN 70.00 (from Gdynia).
It is cheaper by bus and the route 210 from and to the Airport from Gdansk city centre and Orunia and route 110 from or to the Airport to Wrzeszcz Railway Station. These buses operate during the day and there is one at night, N3 from/to the Airport to the city centre or Wrzeszcz.
If travelling to or from Gdynia, there is a No. 510 bus to or from Gdynia Railway Station.
The tickets can be purchased from the driver.
Gdansk Shuttle a private company, have introduced a transport service that will give the best deal in terms of service and price from the Airport to the centre of Gdańsk. (the editor used this on his trip in March 2011 booked through Wizzair)
Roads
Gdańsk has a new deepwater container port, but the roads leading to it are single-track and full of pot-holes. However, there is a great determination to put things right and to bring the city and region up to acceptable standards.
The main highway E28 westwards will take you to Germany via Koszalin and the border town of Szczecin and on to the Netherlands, France and the United Kingdom via the North Sea ports. Going east on the same road will take you to Russia and the city of Kaliningrad.
There are two roads heading south the E75 to Toruń and Łódź, and the E77 to the capital of Poland, Warsaw.
Trains
If you arrive by train, the Main Railway Station is Gdansk Glowny. Equally busy is Gdynia Glowna-Osobowa Railway Station in Gdynia. Many of the international and domestic trains heading for the Tri-City area call in at both stations. There are five types of trains travelling through Poland: EuroCity, InterCity, express trains, fast trains and slow trains. Both first class and second class are available so make sure you are in the correct carriage for your ticket.
For longer trips it is advisable to choose the first class as they are less crowded and slightly more comfortable. As for the EuroCity, InterCity and express trains you must make reservations. For those passengers who are planning to travel by train within Poland, ''Polrailpasses'' are available. You can purchase these for 8, 15, 21 or 30 days and can be bought mainly from the railway ticket offices and travel agencies throughout Poland. Children who are under four years of age travel free, with those aged between 4 and 10 paying half fare.
There is a sleeper-car service from the Hook of Holland to Poznan and Warsaw. www.pkp.pl The Express train from Warsaw to Gdańsk takes three and a half hours. The train to and from Krakow takes about seven and a half hours. Gdańsk also has direct connections to Berlin and takes about 10 hours.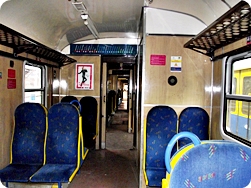 Essentially a commuter line, the SKM trains go from Gdansk Glowny (the main station) to Wejherowo, which is further to the north. These trains make stops in Sopot and Gdynia, as well as a number of other smaller districts in between. You must obtain a ticket either from the station or a kiosk that sells them and then punch them on the platform. A word of caution, Polish stations may only have one or two name signs on the platform so you have to be on your guard if you do not want to lose your stop. (This happened to the editor a number of times).
Ferries
The Polferries company offers direct ferry connections between Gdansk and Nynäshamn in Sweden, whereas the Stena-Line offers direct connections between Gdynia and Karlskrona in Sweden.
Here are some useful websites to help you find your way to this place.
Transport
Awaiting Article
No further information as yet.
Websites of Gdańsk
If you have a website that is an official one linked to this town, or you administer a local community or an important trade site please contact me here at Gdańsk Travel Guide as I may be interested in including it.
Websites
Awaiting Article
No further information as yet.
| | | | |
| --- | --- | --- | --- |
| Name of Website | Address | Type | URL |
| Gdańsk | ul.Nowe Ogrody 8/12 | Offical Site | www.gdansk.pl |